Volunteers are needed for Smiles and Sight Community Appreciation Day.
It will be a fun filled evening during fun fest.
Date of service: July 17th 3:30 pm - 8:30 pm
Summer Youth Program at James H. Quillen VA Medical Center
Eligibility: Students ages 14 - 19, interested in experience working in the medical field and serving our Nations's Veterans.
Dates: Orientation - June 10th, volunteer from June till August
For more information and to sign up, contact the VA Voluntary Service Office at 423-979-2891.
Volunteers needed at Asbury Place in Kingsport
If you would like to learn new skills and be a friend to an elderly person, then volunteer at Asbury Place.
Interested in volunteering with children?
The Palmer Center is seeking D-B students to volunteer in the afternoons to work with the teachers and students. If interested, contact Mrs. Karen Baker, Director at
kbaker@k12k.com
or at 423-378-4962.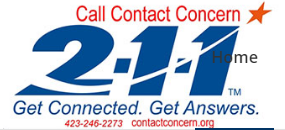 Volunteers needed for Contact Concern
Contact Concern of Kingsport is needing volunteers to assist with their food pantry and other areas. For more information call Janice Carroll at 423-288-5138