Volunteers needed for a Downtown Kingsport Association event
Volunteers will set up or break down tables and other event needs on October 13th. The event set up is from 10 am and ends at 10 pm. Shifts to sign up for are from 10-1, 1-4, 4-7, or 7-10.
Tee shirts will be given to volunteers to wear during the event.
To sign up contact Mrs. Daffron (
kdaffron@k12k.com
) in the Counseling office with your name, email, phone number, t-shirt size, available shift to work, and task that you are able to help with (Set up tables, tents, chairs, serving of food, selling merchandise, tickets, all around helper).
Sign up by September 28th


Interested in volunteering with children?
The Palmer Center is seeking D-B students to volunteer in the afternoons to work with the teachers and students. If interested, contact Mrs. Karen Baker, Director at
kbaker@k12k.com
or at 423-378-4962.
A community service opportunity for students with Healthy Kingsport's "Walk for Wellness Expo." Students can contact Logan Bailey at
lbailey@healthykingsport.org
for more information.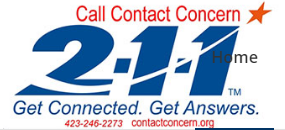 Volunteers needed for Contact Concern
Contact Concern of Kingsport is needing volunteers to assist with their food pantry and other areas. For more information call Janice Carroll at 423-288-5138