Holston Valley Medical Center Junior Volunteer Program
Middle school and high school students can apply to volunteer with Holston Valley Medical Center for this summer.
To apply: obtain an application from the Counseling office (Scholarship Box), fill out and return to HVMC as directed in the application.
Deadline: Returning volunteers - February 28th, New volunteers - March 30th
Volunteers needed at Exchange Place
When: April 28th from 10 am - 5 pm and April 29th from 12 pm - 5 pm
What: Volunteers will be needed to park cars for the Spring Garden Fair
For more information, contact Mr. Marshall Adesman at msadesman@gmail.com or at 423-357-5352.
The Appalachian Fair has a Youth Board, that gives young individuals an opportunity to develop additional leadership and citizenship skills. (See the application below.)
A community service opportunity for students with Healthy Kingsport's "Walk for Wellness Expo." Students can contact Logan Bailey at
lbailey@healthykingsport.org
for more information.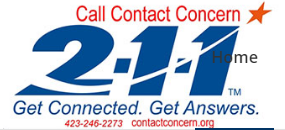 Volunteers needed for Contact Concern
Contact Concern of Kingsport is needing volunteers to assist with their food pantry and other areas. For more information call Janice Carroll at 423-288-5138