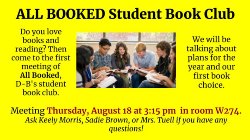 What

All-Booked Student Book Club First Meeting

When

8/18/2022, 3:15 PM

Where

Room W274 (Mrs. Tuell's Room)
Do you love books and reading? Then come to the first meeting of All Booked, DB's student book club. We will meet on Thursday, August 18 at 3:15 pm in room W274. We will be talking about plans for the year and our first book choice. Ask Keely Morris, Sadie Brown, or Mrs. Tuell if you have any questions!