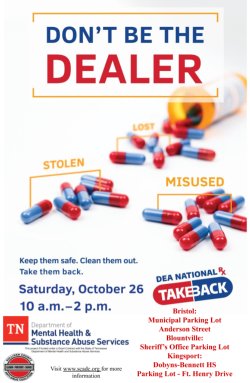 What

Kpt - DEA Community Drug Take Back Event

When

10/26/2019, 10:00 AM

–

2:00 PM

Where

Dobyns-Bennett Parking Lot
The Kingsport Police Department Will Be Participating In A Community Drug Take Back Event. This Event Will Be In The Parking Lot In Front Of Dobyns Bennett High School On Saturday October 26th From 10am Until 2pm. Between now and Saturday, October 26th, all area residents are encouraged to go through their medicine cabinets and inventory their medications. JUUL pods and vape devices will be accepted (as long as they don't have lithium batteries) during the event.

Now is the time to safely dispose of any leftover, expired, or otherwise unwanted medications. This community drug take-back event is open to the public and is a prime opportunity and the preferred method to safely dispose of any medications that are no longer needed.