Volunteers Needed
Upper East TN Human Development Agency, a non-profit organization, is needing volunteers to help with moving their supplies to another location.
For more information and to help, contact Rhonda Calton at RCalton@uethda.org or call 423-246-6180 and ask for Ms. Calton.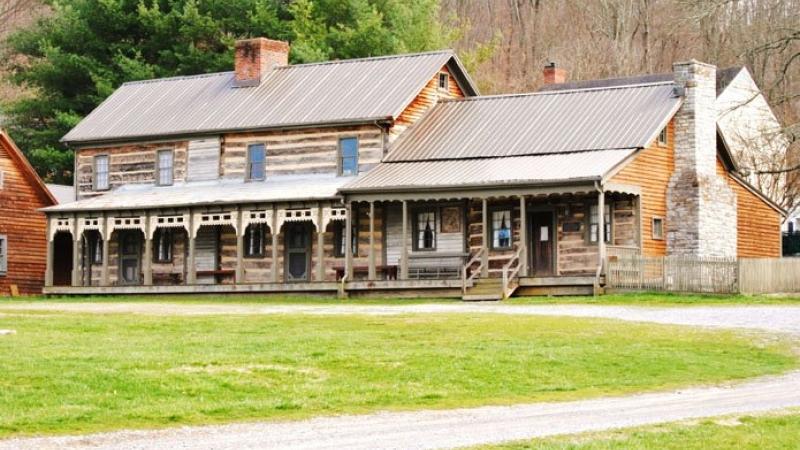 Volunteers needed for the Exchange Place in Kingsport
Volunteers are needed for the Spring Garden Fair on April 29th and 30th
Volunteer work will include parking cars and keeping the grounds clean.
Interested students may contact Mr. Marshall Adesman by email at msadesman@gmail.com or call 423-357-5352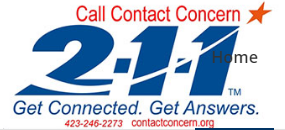 Volunteers needed for Contact Concern
Contact Concern of Kingsport is needing volunteers to assist with their food pantry and other areas.
For more information call Janice Carroll at 423-288-5138

Wellmont & Mountain States
Volunteer Programs
Wellmont: http://www.wellmont.org/Volunteering/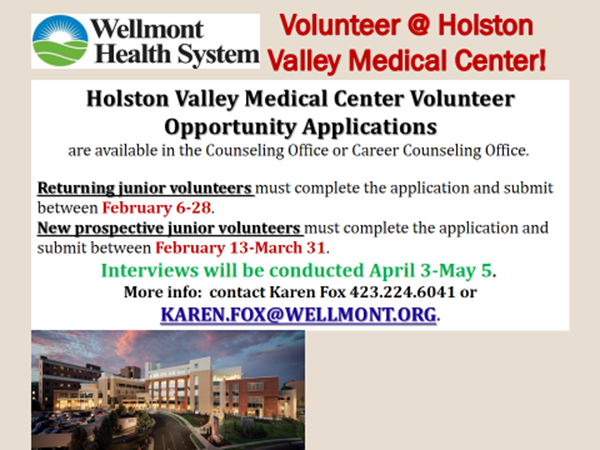 Here is the Holston Valley Medical Center Volunteer Opportunity Application. Applications can be picked up in the Counseling Office or in the Career Counseling Office. Returning junior volunteers must complete the application and submit between February 6-28. New prospective junior volunteers must complete the application and submit between February 13-March 31. Interviews will be conducted April 3-May 5.
For additional information contact Karen Fox Volunteer Services Manager at 423.224.6041 or KAREN.FOX@WELLMONT.ORG
Mountain States: https://www.mountainstateshealth.com/about-us/volunteer-and-auxiliary-resources/student-volunteers

Volunteers Needed
Volunteers needed for Caris Healthcare. If you're interested in volunteering in making patient visits, office work or making special projects/gifts for patients, please contact:
Volunteer Coordinator at Caris Healthcare
1. Patient Care Volunteers: make visits to patients at their homes or at facilities for socialization, companionship, reading to patients, and interacting with patients and families
2. Administrative Volunteers: assist office staff with filing, organizing and making packets for admissions for new patients.
3. Special Project Volunteers: make gifts such as prayer shawls, blankets, hats, neck pillows that our agency can give to patients.
Any volunteer has to be at least 16 years of age and can volunteer in more than one category of volunteering type. Please call at any time if interested in volunteering.
Volunteer opportunity at the Palmer Center
Contact Karen Baker @ kbaker@k12k.com or 378-2160 or 378-4962