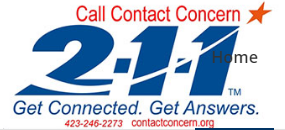 Volunteers needed for Contact Concern
Contact Concern of Kingsport is needing volunteers to assist with their food pantry and other areas.
For more information call Janice Carroll at 423-288-5138
Volunteer Tennessee AnnouncesTwo Funding Opportunities
Volunteer Tennessee, Tennessee's governor-appointed commission on volunteerism and service, announces the availability of Volunteer Center and Youth Civic Engagement grants. Both opportunities will allow organizations to utilize service as a vehicle for addressing critical needs throughout the state.
Volunteer Center Grants allow Volunteer Centers to assist Volunteer Tennessee in carrying out responsibilities outlined in its Commission Support Grant. Commission Support Grant funds are to support the operations of state commissions in implementing their duties as required by the National and Community Service Act of 1990, as amended and the Edward M. Kennedy Serve America Act. Primary duties include implementation of the state service plan, national service grant administration systems, recruitment of volunteers for national and community service, and the development of projects, training and technical assistance for national and community service. Volunteer Tennessee calls for proposals from Volunteer Centers to carry out these responsibilities in local communities in Tennessee. Volunteer Centers are defined as an official volunteer center registered with the Points of Light Institute/HandsOn Network, a United Way volunteer center or non-profit organizations that are in the process of forming an official Volunteer Center.
Youth Civic Engagement Grants are designed to involve young people between the ages of five and seventeen in service-learning projects that simultaneously support student development and meet community needs in areas such as the environment, education, healthy futures, disaster services, and other unmet needs. Volunteer Tennessee calls for proposals from organizations that will use service-learning to carry out these responsibilities in local communities in Tennessee.
Applications are due Tuesday, September 12, 2017 at 3:00 p.m. CDT. To learn more about these funding opportunities, visit the Funding Opportunities page on Volunteer Tennessee's web site
www.volunteertennessee.net.
For any questions, please reach out to Zanquetta Gray at
gray@tn.gov.